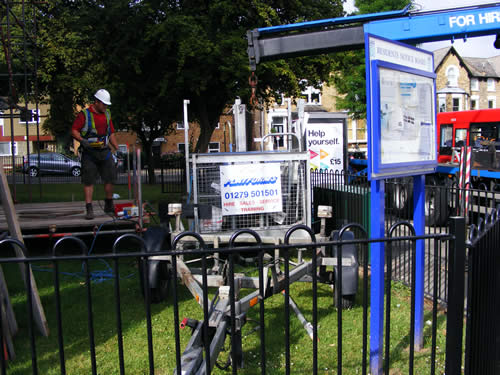 Construction Hoist Hire
With experience of over 35 years in supplying solutions for the vertical transportation of persons and materials, we are fully equipped to meet the demands of major construction projects, as well as assisting on smaller scale projects.
Each and every hoist installation is planned carefully prior to installation. Our team offer support during the planning process for Hoist installations right through to your project finishing.
1) Delivery - Safe Delivery of Construction Hoists to Site
All deliveries of our hoist equipment to site are planned in advance to ensure minimum site disruption and inconvenience.
Before the installation takes place, A Rapid platforms representative will visit site to assess the installation area, access routes and site conditions.
Installation of our rental or customers' own hoists is carried out by our NVQ qualified Hoist Installers, following thorough risk assessment and the preparation of site-specific method statements and safe systems of work. The hoist mast height is extended by using a 'self-erect' jib/winch and built from the roof of the hoist car or lifted in to place by the hoist installers from within the hoist platform depending on which hoist model is being installed. The mast sections are secured directly to the building or scaffolding structure through tie assemblies, configured to suit the hoist type and fixings. All work is carried out safely, efficiently and at competitive rates.
3) Compliance Thorough examinations of - Construction Hoists to ensure compliance with LOLER/PUWER regulations
We carry out thorough examinations of all hoist installations to ensure we comply with LOLER/PUWER regulations following installation and at regular intervals (six months for passenger / goods hoists and 12 months for goods only hoists as a minimum) or more regular weekly/monthly examinations as stipulated by site. These inspections are undertaken by our fully qualified and experienced Hoist Installers.
4) Familiarisation - Hoist Familiarisation for Site Operators
We offer specific hoist familiarisation sessions at the end of all hoist installations to ensure that hoists are operated safely, in accordance with manufacturers' instructions and guidelines and that maximum optimisation of the hoist is achieved during the duration of the project. Full hoist operator training can be provided by our training team.
5) Dismantling - Dismantling Construction Hoists Efficiently and Safely
We understand it is essential that the hoist is removed safely and quickly from site once there is no need for lifting materials or passengers. If required, a Rapid Platforms representative will carry out a site inspection and identify any issues or obstacles to getting the hoist out safely. The site area and conditions will have changed from the initial hoist installation. We will then arrange to transport the hoist away at a time that suits you.
If you would like to check out our range of Goods and Passenger Hoists click here.